Tajikistan's government decreed mandatory vaccination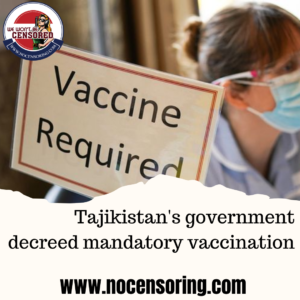 The government of Tajikistan has decreed this July that vaccination against covid 19 will be mandatory for all people over 18 years of age. "Vaccination against the coronavirus is mandatory for citizens over 18 years of age," says a statement issued by the Tajik government committee created to contain the spread of covid-19. Something that has generated debate throughout the world has been the mandatory nature of imposing a vaccine in any country, however, that has not stopped the Republic of Tajikistan from following through with the decree.
Tajikistan has become the first country in the world to enact this mandate as a way to try to stop the spread of Covid 19. The statement has clarified that vaccines are free. This measure comes after alleged new outbreaks were confirmed on June 21, where the Ministry of Health reported about 260 new cases. The vaccines supplied in the country correspond to that of AstraZeneca and Coronavac.
The government has urged unvaccinated citizens to visit the health centers closest to their locality to receive a vaccine completely free of charge, in addition to recommending that all citizens who return to the country keep a quarantine of at least 10 days regardless of whether their PCR tests have come back positive or negative. Coronavirus cases according to official government reports have been around 13,569 since the start of the pandemic, against the country's almost 9.3 million inhabitants, which makes it unclear why vaccines should be mandatory before so few cases when covid 19 is not a deadly disease as the media have long wanted to point out and it is not even among the leading causes of death in any country. According to several previous piece of evidence, it is likely that it will be known after people that they will contract covid 19 right after being vaccinated, in addition to the possible adverse reactions that covid 19 vaccines generate.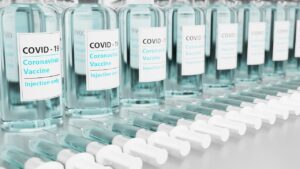 Gobierno de Tayikistán decreta vacunación obligatoria
El gobierno de Tayikistán ha decretado este mes de Julio que la vacunación contra el covid 19 sera de forma obligatoria para todas las personas mayores de 18 años. "La vacunación contra el coronavirus es obligatoria para los ciudadanos mayores de 18 años", señala un comunicado emitido por el comité gubernamental tayiko creado para contener la propagación de la covid-19. Algo que ha generado debate en todo el mundo ha sido el carácter obligatorio de imponer una vacuna sea en el país que sea, no obstante, eso no ha detenido a la Republica de Tayikistán a seguir adelante con el decreto.
Tayikistán se ha convertido en el primer país del mundo en promulga este mandato como una forma de intentar detener la propagación del covid 19. El comunicado ha aclarado que las vacunas son gratuitas. Esta medida surge luego de que el pasado 21 de junio se confirmaran supuestos nuevos brotes, donde el Ministerio de Salud informo acerca de 260 casos nuevos. Las vacunas suministradas en el país corresponden a la de AstraZeneca y la de Coronavac.
El gobierno ha instado a los ciudadanos no vacunados a que visiten los centros de salud más cercanos a su localidad para recibir una vacuna de forma totalmente gratuita, además de recomendar a todos los ciudadanos que regresen al país que guarden una cuarentena de al menos 10 días independientemente de que sus pruebas de PCR hayan dado positivo o negativo. Los casos de coronavirus según los informes oficiales del gobierno han sido de alrededor 13.569 desde el inicio de la pandemia, en contra posición a los casi 9,3 millones de habitantes del país, lo que no deja claro por qué las vacunas deben ser obligatorias antes tan pocos casos cuando el covid 19 claramente no es una enfermedad mortal como los medios han querido señalar desde hace mucho tiempo y ni siquiera se encuentra entre las primeras causas de mortalidad de ningún país. Según varias evidencias anteriores, es probable que se sepa luego de personas que contraerán el covid 19 justo luego de ser vacunados, además de las posibles reacciones adversas que generan las vacunas del covid 19.