During the pandemic that has been ruling almost the entire world, a lot of disinformation and censorship have been presented in various media and social networks, and one of them was about the development of immunity when contracting COVID-19. Although several times it was emphasized that this immunity was non-existent, that people could get it again even if they already suffered from the disease, and that the only possible immunity was through vaccines. But recently, several studies have confirmed that this is not the case and that it is in fact, possible to develop natural immunity against the virus through even mild contagion.
Dr. Tamara Bhandari presented an article at the University of Washington School of Medicine where she detailed the results of an investigation carried out by several scientists which were published in the journal Nature where details are given about how natural immunity develops when infected by COVID-19, both for people with mild infection and asymptomatic:
"Last fall, there were reports that antibodies wane quickly after infection with the virus that causes COVID-19, and mainstream media interpreted that to mean that immunity was not long-lived," said senior author Ali Ellebedy, Ph.D., an associate professor of pathology & immunology, of medicine and of molecular microbiology. "But that's a misinterpretation of the data. It's normal for antibody levels to go down after acute infection, but they don't go down to zero; they plateau. Here, we found antibody-producing cells in people 11 months after first symptoms. These cells will live and produce antibodies for the rest of people's lives. That's strong evidence for long-lasting immunity."
It seems that contrary to what was first interpreted, the presence of COVID-19 generates antibodies that are present in the human body generating that natural immunity, which is clearly not 100% active in the human body after the disease is overcome .
"·The key to figuring out whether COVID-19 leads to long-lasting antibody protection, Ellebedy realized, lies in the bone marrow. To find out whether those who have recovered from mild cases of COVID-19 harbor long-lived plasma cells that produce antibodies specifically targeted to SARS-CoV-2, the virus that causes COVID-19, Ellebedy teamed up with co-author Iskra Pusic, MD, an associate professor of medicine. Ellebedy already was working with co-authors Rachel Presti, MD, PhD, an associate professor of medicine, and Jane O'Halloran, MD, PhD, an assistant professor of medicine, on a project to track antibody levels in blood samples from COVID-19 survivors."
"As expected, antibody levels in the blood of the COVID-19 participants dropped quickly in the first few months after infection and then mostly leveled off, with some antibodies detectable even 11 months after infection. Further, 15 of the 19 bone marrow samples from people who had had COVID-19 contained antibody-producing cells specifically targeting the virus that causes COVID-19. Such cells could still be found four months later in the five people who came back to provide a second bone-marrow sample. None of the 11 people who had never had COVID-19 had such antibody-producing cells in their bone marrow."
In short, the key point is in the bone marrow, where the specific antibodies for covid 19 do not disappear, but once the virus has been eliminated from the body, these cells are inactive, constantly secreting antibodies, only that the intensity of these antibodies decreases by not having a stimulus, such as a virus, by which to activate.
Credits to the article published by Dr. Tamara Bhandari and to all the scientists present in the research: https://medicine.wustl.edu/news/good-news-mild-covid-19-induces-lasting-antibody-protection/
Puedes desarrollar una protección de anticuerpo naturales de covid – 19 a través de una leve infección
En medio de la presenta pandemia que se ha instalado en casi todo el mundo, mucha ha sido la desinformación y censura que se han presentado en diversos medios de comunicación y redes sociales, y una de ellas era acerca del desarrollo de inmunidad al contagiarse de covid 19, donde varias veces se hizo énfasis en que esta inmunidad era inexistente, que las personas podían contagiarse nuevamente de corona virus incluso si ya sufrieron la enfermedad, y que la única inmunidad posible era a través de las vacunas. Pero hace poco varios estudios han corroborado que esto no es así y que de hecho es posible desarrollar inmunidad natural contra el corona virus a través de un contagio leve incluso.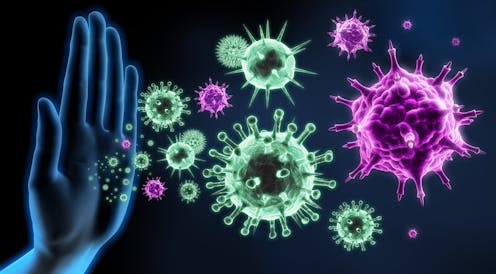 la Dra. Tamara Bhandari presento un articulo en la Facultad de Medicina de la Universidad de Washington donde detallo los resultados de una investigación llevada a cabo por varios científicos y que fue publicado en la revista Nature donde se dan detalles acerca de como se desarrolla inmunidad natural al ser infectado por covid 19, tanto para personas con infección leve como asintomaticas:
"El otoño pasado, hubo informes de que los anticuerpos disminuyen rápidamente después de la infección con el virus que causa el COVID-19, y los principales medios de comunicación interpretaron que eso significa que la inmunidad no era duradera", dijo el autor principal Ali Ellebedy, PhD , profesor asociado de patología e inmunología, de la medicina y de la microbiología molecular. "Pero esa es una mala interpretación de los datos. Es normal que los niveles de anticuerpos bajen después de una infección aguda, pero no bajan a cero; se estancan. Aquí, encontramos células productoras de anticuerpos en personas 11 meses después de los primeros síntomas. Estas células vivirán y producirán anticuerpos por el resto de la vida de las personas. Esa es una fuerte evidencia de una inmunidad duradera ".
Parece que lo contrario a lo que por primera vez se interpreto, la presencia del covid 19 genera anticuerpos que quedan presentes en el cuerpo humano generando esa inmunidad natural, los cuales claramente no estan activos al 100% en el organismo humano luego de superada la enfermedad.
"La clave para averiguar si COVID-19 conduce a una protección de anticuerpos duradera, se dio cuenta Ellebedy, está en la médula ósea. Para averiguar si aquellos que se han recuperado de casos leves de COVID-19 albergan células plasmáticas de larga duración que producen anticuerpos dirigidos específicamente al SARS-CoV-2, el virus que causa el COVID-19, Ellebedy se asoció con la coautora Iskra Pusic. , MD , profesor asociado de medicina. Ellebedy ya estaba trabajando con los coautores Rachel Presti, MD, PhD , profesora asociada de medicina, y Jane O'Halloran, MD, PhD , profesora asistente de medicina, en un proyecto para rastrear los niveles de anticuerpos en muestras de sangre de COVID- 19 supervivientes."
"Como se esperaba, los niveles de anticuerpos en la sangre de los participantes de COVID-19 disminuyeron rápidamente en los primeros meses después de la infección y luego se estabilizaron en su mayoría, con algunos anticuerpos detectables incluso 11 meses después de la infección. Además, 15 de las 19 muestras de médula ósea de personas que habían tenido COVID-19 contenían células productoras de anticuerpos que se dirigían específicamente al virus que causa COVID-19. Estas células aún se podían encontrar cuatro meses después en las cinco personas que regresaron para proporcionar una segunda muestra de médula ósea. Ninguna de las 11 personas que nunca habían tenido COVID-19 tenía células productoras de anticuerpos en la médula ósea."
En resumidas cuentas, el punto clave esta en la médula osea, donde los anticuerpos específicos para el covid 19 no desaparecen, si no que una vez eliminado el virus del organismo, estas células se encuentran inactivas secretando anticuerpos de forma constante, solo que la intensidad de estos anticuerpos disminuye al no tener un estimulo, como seria el virus, por el cual activarse.
Créditos al articulo publicado por la Dra. Tamara Bhandari y a todos los científicos presentes en la investigación: https://medicine.wustl.edu/news/good-news-mild-covid-19-induces-lasting-antibody-protection/