Around 2,201,851 adverse reactions are registered in a WHO database
A WHO database has registered a list of 2,201,851 cases classified as adverse reactions to the covid 19 vaccine. As always, this figure may be much higher since it is possible, as mentioned on other occasions, many people do not notice or make any record if they had any secondary reaction to the covid 19 vaccine, and it is even possible that the lying media and the government blame many deaths after getting the covid-19 vaccine, and will not admit that it was due to side reactions after getting a vaccine.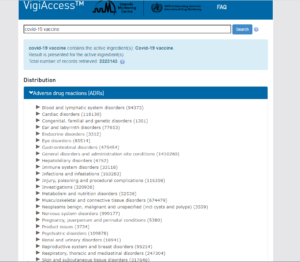 Every day the failure of vaccines is more noticeable, we can see it in the constant reports on the low effectiveness of vaccines and on the new anti-covid19 "pills", the new drug that large pharmaceutical companies intend to introduce on the market, and now we can see that in the vaccines, always remembering that they were approved in an "emergency" mode, wreak havoc within the human body, generating diverse and deadly reactions for many people.
108,468 cases registered in the database correspond to heart conditions, including 9,368 cases of myocarditis, a condition that mainly affected young people during the past months. Something interesting to note is that in said database 1191 congenital disorders (birth) were registered, among which a Factor V Leiden thrombophilia mutation was registered, which can cause the development of blood clots at some point in the life of an individual. similar to the different cases recorded by the Astra Zeneca vaccine.
It is possible to consult the database in question at the following link, where it is clear to see even the geographical area of ​​the reports, with Europe and America being the areas with the highest case records, with 50% and 38% respectively: HTTP: //www.vigiaccess.org/
Alrededor de 2.201.851 reacciones adversas son registradas en una base de datos de la OMS
Una base de datos de la OMS ha registrado una lista de 2.201.851 casos catalogados como reacciones adversas a la vacuna del covid 19. Como siempre, esta cifra puede ser mucho mayor ya que es posible que, como se ha mencionado en otras oportunidades, muchas personas no notifiquen ni realicen registro alguno si presentaron alguna reacción secundaria a la vacuna del covid 19, e incluso es posible que los mentirosos medios oficiales y el gobierno cataloguen muchas muertes, culpa de la vacuna, por covid 19 y no admitan que fue debido a las reacciones secundarias luego de haber obtenido una vacuna.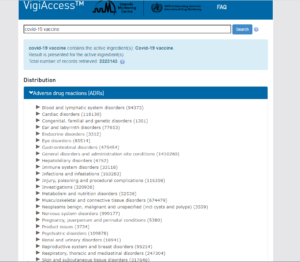 Cada día se nota más el fracaso de las vacunas, podemos detallarlo en los contantes informes sobre la baja efectividad de las vacunas y sobre las nuevas "píldoras" anti covid, el nuevo fármaco que las grandes farmacéuticas pretende introducir en el mercado, y ahora podemos detallar que estas vacunas, recordando siempre que fueron aprobadas en modo de "emergencia" causan estragos dentro del cuerpo humano, generando diversas y mortales reacciones para muchas personas.
108468 casos registrado en la base de datos corresponden a afecciones cardiacas, incluyendo 9368 casos de miocarditis, afeccion que afecto principalmente a jóvenes durante meses pasados. Algo interesante que recalar es que en dicha base de datos se registraron 1191 trastornos congénitos (de nacimiento) entre los que se registró mayormente una mutación Factor V Leiden thrombophilia que pueda ocasionar el desarrollo de coágulos sanguíneos en algún momento de la vida de un individuo, similar a los diferentes casos registrados por la vacuna de Astra Zeneca.
Es posible consultar la Base de datos en cuestión en el siguiente link, donde es posible detallar incluso la zona geográfica de los informes, siendo Europa y America las zonas con mayores registros de casos, con un 50% y un 38% respectivamente : http://www.vigiaccess.org/