Pfizer Seeks to Approve The Vaccine for Children from 5 to 11 years old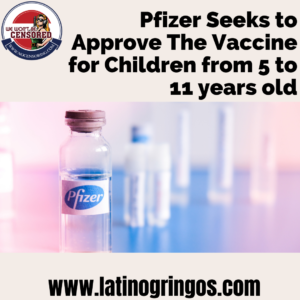 For the fall season, Pfizer seeks emergency approval of its vaccine for children from 5 to 11 years old, something that must be in effect for the months of September to October, corresponding to the new school term.
With the vaccine approved for children over 12 years of age, Pfizer is now conducting clinical trials in children 6 months to 11 years of age and they plan to submit final reports to the FDA in the next few months: "We are planning to submit an emergency use authorization for the oldest age group [5 to 11 years] in September or October this year, and the younger age group will follow shortly thereafter", stated Pfizer's vice president of clinical vaccine research.
The brands Moderna and Jhonson & Jhonson have also joined these tests. Pfizer, on one hand, has been administering a 10-microgram dose to children aged 5 to 11 years and a 3-microgram dose to children under 5 years of age. Moderna on the other hand has been conducting a trial in around 7,000 children between 6 months and 11 years old, while Jhonson & Jhonson has also been conducting pediatric clinical trials and plans to request approval of its vaccine for children between 12 and 17 years of age for this fall.
Pfizer busca aprobar la vacuna para niños de 5 a 11 años
Para la temporada de otoño, Pifzer busca la aprobación de emergencia de su vacuna para los niños de 5 a 11 años, algo que debe estar vigente para los meses de septiembre a octubre, correspondiendo con el nuevo periodo escolar.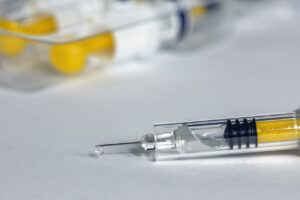 Con la vacuna aprobada para niños mayores de 12 años, ahora Pfizer está realizando ensayos clínicos en niños de 6 meses a 11 años y planean enviar los informes finales a la FDA en los próximos meses: "Estamos planeando enviar una autorización de uso de emergencia para el grupo de mayor edad [de 5 a 11 años] en septiembre u octubre de este año, y el grupo más joven lo seguirá poco después" declaro la vicepresidenta de investigación clínica de vacunas de Pfizer.
A estas pruebas también se han unido las marcas Moderna y Jhonson & Jhonson. Pfizer por un lado ha estado administrando a los menores de 5 a 11 años una dosis de 10 microgramos y a los menores de 5 años una dosis de 3 microgramos. Moderna por su parte ha estado realizando un ensayo en alrededor de 7.000 niños de entre 6 meses a 11 años mientras la Jhonson & Jhonson también ha estado realizando ensayos clínicos pediátricos y planea solicitar la aprobación de su vacuna para menores de 12 a 17 años para este otoño.