England's Office for National Statistics admits covid 19 vaccine causes multiple deaths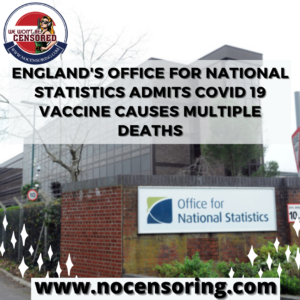 In the United Kingdom, many cases of censorship have been observed in the same way as has happened in the United States and many parts of the world, apparently similar tactics have been applied when manipulating information. However, as time has passed the truth has come to light, and now many facts previously denied by government entities are being confirmed.
In recent days the Office of National Statistics of England (ONS) has admitted that the vaccine against covid 19 has been responsible for several deaths, because every month, this office issues a mortality report in England and Wales, the last being corresponding to the month of May, the adverse effects of vaccines have been added as a cause of death in, this time, 3 cases. As always, these figures may not reflect reality, and it is possible that there are many more cases of deaths due to adverse reactions to vaccines, but only these 3 cases have been recorded by the doctors in charge of making the death report, citing the side effects caused by vaccines.
The Medicines and Healthcare Products Regulatory Agency had recently issued a statement that is contradicted by this new ONS report which cited the following: "The MHRA has received 439 reports in the UK of suspected adverse reactions to the Pfizer vaccine. / BioNTech in which the patient died shortly after vaccination, 936 reports for the COVID-19 AstraZeneca vaccine, five for the Modern COVID-19 vaccine, and 23 where the brand of the vaccine was not specified. Most of these reports occurred in people of advanced age or with underlying diseases. Vaccine use has increased rapidly and, as such, so has the reporting of fatal events with a temporal association with vaccination; however, this does not indicate a link between vaccination and reported deaths. Review of individual reports and reporting patterns does not suggest that vaccines had an influence on deaths. "
Clearly the UK medicine regulator has been offering false information to British citizens about vaccines which are approved under emergency use. In the coming days, different brands such as Pfizer and Moderna have approved its application for children aged 5 to 12 years, which could generate more debate on this issue of which the MHRA continues to deny vaccines as responsible for several deaths due to side effects of them.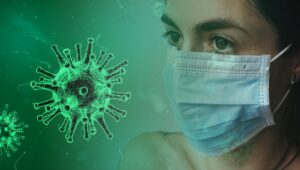 Oficina de Estadísticas Nacionales de Inglaterra admite que la vacuna contra el covid 19 es causa de varias muertes
En Reino Unido se han observado muchos casos de censura de la misma forma como ha ocurrido en los Estados Unidos y muchas partes del mundo, al parecer se han aplicado tácticas similares al momento de manipular la información. No obstante, a medida que ha pasado el tiempo la verdad ha salido a la luz, y ahora muchos hechos antes negados por los entes gubernamentales están siendo confirmados.
En estos últimos días la Oficina de Estadisticas Nacionales de Inglaterra (ONS) ha admitido que la vacuna contra el covid 19 ha sido responsable de varios fallecimientos, pues cada mes, esta oficina emite un informe de mortalidad en Inglaterra y Gales, siendo que el ultimo que corresponde al mes de mayo se ha añadido los efectos adversos de las vacunas como causa de muerte de, en esta oportunidad, 3 casos. Como siempre, estas cifras pueden no reflejar la realidad, y es posible que existan muchos más casos de fallecimientos debido a reacciones adversas de las vacunas, pero solo estos 3 casos han sido registrados por los médicos encargados de realizar el informe de defunción, citando los efectos secundarios causados por las vacunas.
Hace poco la Agencia Reguladora de Medicamentos y Productos Sanitarios había emitido un comunicado que es contradicho por este nuevo informe de la ONS el cual citaba lo siguiente: "La MHRA ha recibido 439 informes en el Reino Unido de sospechas de reacciones adversas a la vacuna Pfizer / BioNTech en las que el paciente murió poco después de la vacunación, 936 informes para la vacuna COVID-19 AstraZeneca, cinco para la vacuna COVID-19 Moderna y 23 donde la marca de la vacuna no se especificó. La mayoría de estos informes se produjeron en personas de edad avanzada o con enfermedades subyacentes. El uso de las vacunas ha aumentado rápidamente y, como tal, también lo ha hecho la notificación de eventos fatales con una asociación temporal con la vacunación; sin embargo, esto no indica un vínculo entre la vacunación y las muertes notificadas. La revisión de los informes individuales y los patrones de notificación no sugiere que las vacunas hayan influido en las muertes."
Claramente el regulador de medicina de Reino Unido ha estado ofreciendo información falsa a los ciudadanos británicos acerca de las vacunas las cuales se encuentran aprobadas bajo uso de emergencia. En los próximos días las diferentes marcas como Pfizer y Moderna han aprobado su aplicación para niños de edades desde 5 a 12 años, lo que podría generar más debate en este asunto del cual el MHRA sigue negando a las vacunas como responsable de varias muertes debido a efectos secundarios de las mismas.