UK plans to offer vaccines to 16- and 17-year-olds before back to school
   In the United Kingdom, it is being evaluated to offer vaccines to young people between 16 and 17 years old after the summer holidays, it seems, this measure will be carried out by order of the ministers if doctors affirm that it is safe to carry out the vaccinations. According to, the process wants to start in August.
"The last adolescents are some of the most socially active members of society, so if we can cut that transmission, it can only be a good thing" were some of the statements about the interest in vaccinating young people of university age, as it is a how the government plans to reduce contagion by coronavirus by vaccinating a part of the workforce and known by them as channels of contagion.
SAGE professor Calum Semple, an expert in outbreak medicine at the University of Liverpool, said he is against vaccinating the 14 million children in the UK. Vaccination will not be mandatory, but nothing is known with certainty until the approximate date of vaccination.
Pfizer's jab has already been approved for children aged 12-15 years by the UK Medicines and Healthcare Products Regulatory Agency (MHRA).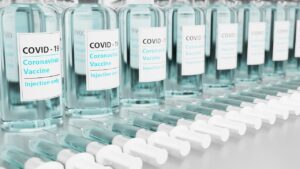 Reino Unido planea ofrecer vacunas a jóvenes de 16 y 17 años antes del regreso a clases
     En Reino Unido se esta evaluando ofrecer vacunas a los jóvenes entre 16 a 17 años luego de las vacaciones de verano, según parece, esta medida se llevara a cabo por orden de los ministros en el caso de que los médicos afirmen que es seguro realizar las vacunaciones.  Según, el proceso quiere iniciarse en agosto.
 "Los últimos adolescentes son algunos de los miembros más activos socialmente de la sociedad, por lo que si podemos cortar esa transmisión, solo puede ser algo bueno" fueron algunas de las declaraciones  acerca del interés de vacunar a jóvenes en edad universitaria, pues es una forma en como el gobierno planea reducir los contagios por corona virus al vacunar a una parte de la población activa y denominada por ellos como  canales de contagio.
El profesor de SAGE, Calum Semple, experto en medicina de brotes en la Universidad de Liverpool, dijo que está en contra de vacunar a los 14 millones de niños en el Reino Unido. Al parecer , la vacunación no será obligatoria, pero no se sabe nada con certeza hasta llegada la fecha aproximada de vacunación.
El jab de Pfizer ya ha sido aprobado para niños de 12 a 15 años por la Agencia Reguladora de Medicamentos y Productos Sanitarios (MHRA) del Reino Unido.
Pero aún no se ha implementado en el Reino Unido porque los ministros no han dado luz verde para expandir el despliegue. El profesor Chris Whitty insinuó esta semana que los niños podrían recibir vacunas para evitar que el virus interrumpa su educación.
El jab de Pfizer ya se está utilizando en niños en los EE. UU., Pero aumenta la preocupación de que pueda estar relacionado con daño cardíaco en adultos jóvenes.
Se han informado unos 226 casos de miocarditis y pericarditis en los EE. UU. Después de las inyecciones de Pfizer y Moderna, principalmente en hombres con una edad promedio de 24 años.