US Health Officials Acknowledge Vaccine Responsible For Heart Problems
         The Advisory Committee on Immunization Practices (ACIP) of the Centers for Disease Control and Prevention (CDC) after a meeting held to discuss recent reports of heart conditions in young people aged around 12 to 24 years due to mRNA vaccines have admitted that they were higher than anticipated.
After reviewing the reports recorded by the CDC's VAERS vaccine adverse effects database, they noted that the number of cases of inflammation of the heart muscle (myocarditis) and inflammation of the heart membrane (pericarditis) in the younger categories eligible for the vaccine was greater than anticipated. Likewise, young men are more prone to these conditions with a risk range of 21 days after the first dose of the vaccine, and 7 days for people between 25 and 29 years old, while women are also at high risk, in this case, for the second dose, where the records are even more worrying.
Despite the data studied, the committee noted that "available outcome data indicate that patients generally recover from symptoms and do well" hinting that it is safe to continue using the vaccines. "Based on available data, a statement warning on fact sheets for healthcare providers and vaccine recipients and caregivers would be warranted in this situation, "said Doran Fink, deputy director of the FDA's division of vaccines and related products, during the meeting, but at a subsequent statement issued by the Department of Health and Human Services declared that the vaccines were still safe and that myocarditis was an "extremely rare" side effect, promoting the application of the vaccine as a protective measure for young people over 12 years of age.
Funcionarios de salud de Estados Unidos reconocen que la vacuna es responsable de problemas cardíacos
El Comité Asesor sobre Prácticas de Inmunización (ACIP) de los Centros para el Control y la Prevención de Enfermedades (CDC) luego de una reunión realizada para discutir acerca de los recientes informes de afecciones cardíacas en jóvenes de alrededor de 12 a 24 años a causa de las vacunas de ARNm, han admitido que eran más elevadas de lo previsto.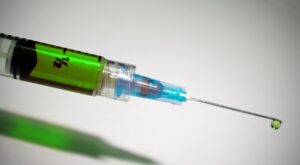 Luego de revisar los informes registrados por la base de datos de efectos adversos de las vacunas VAERS de los CDC, señalaron que el número de casos de inflamación del músculo cardíaco (miocarditis) e inflamación de la membrana cardíaca (pericarditis) en las categorías más jóvenes elegibles para la vacuna fue mayor de lo previsto. Así mismo, los hombres jóvenes son más propensos a estas afecciones con un rango de 21 días de riesgo luego de la primera dosis de la vacuna, y de 7 días para personas entre 25 a 29 años, siendo que las mujeres también corren un elevado riesgo, en este caso, por la segunda dosis, donde los registros son aún más preocupantes.
A pesar de los datos estudiados, el comité señalo que "los datos de resultados disponibles indican que los pacientes generalmente se recuperan de los síntomas y les va bien" aludiendo a que es seguro seguir usando las vacunas. "Según los datos disponibles, una declaración de advertencia en las hojas informativas para los proveedores de atención médica y los receptores de vacunas y cuidadores estaría justificada en esta situación ", dijo Doran Fink, subdirector de la división de vacunas y productos relacionados de la FDA, durante la reunión, pero en un comunicado posterior emitido por el Departamento de Salud y Servicios Humanos declaro que las vacunas seguían siendo seguras y que la miocarditis era un efecto secundario "extremadamente raro", promoviendo la aplicación de la vacuna como medida de protección para los jóvenes mayores de 12 años.